[Review]Which is the best Magnetic Power Bank for iPhone / Android 2023
Posted by COOL GADGET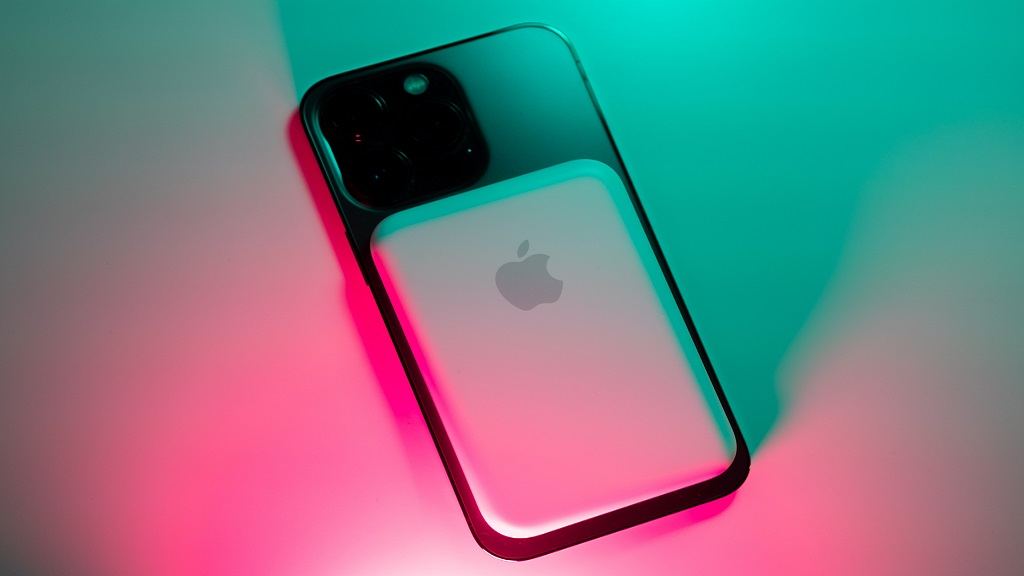 On July 14, 2021, Apple launched a new product called MagSafe Battery Pack, priced at $99. The technology is relatively mature now, but a lot of people still have no idea about what MagSafe is. Is the MagSafe Power Bank worth it? This blog is going to guide you through the best magnetic power bank and tell you how to choose one that suits you.
1. All you need to know about magnetic power bank
1.1 How does the MagSafe Battery Pack work?
MagSafe is a wireless charging and interaction method introduced by Apple. It solves the problems of traditional wireless power banks, such as inaccurate alignment, low efficiency, and the need for multiple disconnections and reconnections. 
The biggest difference between MagSafe and regular power banks is that it contains a circle of magnets inside, which is also referred to as magnetic wireless charging. By using magnetic attraction, the device charging unit can be accurately aligned, achieving the goal of easy connection and disconnection. 
MagSafe can quickly locate and magnetically attach, without any alignment issues. It can firmly adhere to the specific position of an iPhone, providing stable wireless charging and resolving the limitations of traditional wireless charging. 
1.2 How is the magnetic power bank different from a regular power bank?
From the description above, we have learned the features of the MagSafe power bank, but how is it different from regular ones? Let's take a look.
🧲 Magnetic power bank
Pros:
Small, lightweight, and easy-to-carry
Easy-to-charge
Wireless. No need to carry a usb cable
Cons:
Lower charging efficiency and longer charging time
More likely to overheat
Smaller capacity
Special case required or use it without case
🔋 Regular power bank
Pros:
Higher charging efficiency and shorter charging time
Larger capacity
Widely compatible with phones
Cons:
Fixed interface and additional cable required
Inconvenient to use when charging
Heavier and inconvenient to carry
After comparison and analysis, it's easy to find that the main advantages of magnetic power bank lie in wireless, lightweight, and fashionable. 
When my phone is running out of battery and an urgent call comes in, conventional power banks require me to connect a long charging cable or hold up the power bank next to my face. This is neither convenient nor aesthetically pleasing. However, magnetic power banks are more elegant in their usage. 
When I'm going out and don't wanna carry a bag, the magnetic power bank fits easily in my pocket with my phone and doesn't look weird. But a regular power bank might not fit in the same pocket if it's a little large. Moreover, if there is no pocket, I have to hold it in my hand. Not to mention that I have to consider where to put the cable.
When I go out traveling, I like to take some photos to share with my friends or as a souvenir. I often have to use my phone to take pictures, but the phone is always tethered to a charging cable, which limits my flexibility and makes me feel clumsy. 

After the advantages, let's talk about its disadvantages. For instance: When you have charged your phone for 30 minutes, you will find that it is only charged by 20%. When you have charged your phone 60%, you may notice that the power bank is out of power.

After you have learned the pros and cons of the magnetic power bank, if you think highly of its merits and you can accept its shortcomings at the same time, please read on and we have prepared a surprise for you.
1.3 What should I consider when buying a magnetic power bank?
How to choose a magnetic power bank? We have summed up the following key points based on 14 days of testing and using.
🧲Magnetic suction
A power bank with weak magnets drops down easily while using them. If it falls off with a gentle wave, then it is very likely to happen again in daily use and the power bank may be damaged as a result.
🔋Battery capacity
It is recommended to choose a power bank whose capacity is no more than 5000mAh. For one thing, the capacity can meet your basic charging needs on the go. For another, it won't be too heavy to carry. The larger the capacity is, the larger and heavier the power bank is. If it's not portable at all, then it goes against why we choose a power bank in the first place.
⚖️Weight
Some magnetic charging power banks weigh over 300 grams, which is equivalent to carrying an additional half of an iPhone. This adds to the burden and makes it less portable. It is recommended to choose a small and lightweight one instead. 
⚡Charging speed
All magnetic power banks on the market (including Apple) are unable to charge iPhones up to 15W, but 5~7.5W. The MagSafe Battery Pack also needs a 20W+ power adapter to reach 15W.
✨Additional features
For example, you can check whether it has a stand, an auto-suction function, a charging port, a charging animation, and more.
2. Cool Lab's Choice
After 14 days of testing, using and business visits, we have found this gem of power bank.
Why we think it's COOL
MagSafe charger with a phone stand, compatible with Android/iOS phones, earphones, and Apple watches. Charge your iPhone, AirPods, and Apple Watch with one device.
🧲 The magnetic suction is medium, but the good thing is that it is light enough and won't be thrown out accidentally.
🔋 Its actual capacity is the largest among the power banks of the same size. It can charge iPhone 12 up to 100%, outperforming other top-class power banks like A***r (89%) and Apple(60%).
📏 It's the slimmest, only 8mm thick, compared with the 11mm of the Apple Battery Pack. It's the smallest and weighs 125g, only 12g heavier than Apple's.
⚡ It charges by 12% within 15mins, which means its charging speed is like the rest of other power banks.
✨ It can achieve automatic charging through adsorption (consistent with the external battery function released by Apple for the iPhone, while other brands of power banks (including Anker) need to click a special button to start charging after sticking to the phone). It has a TypeC interface for charging and discharging in one and exquisite workmanship. The outer shell is made of aluminum alloy technology, full of texture. 
😞 Minor Regret: It is a superb magnetic charging power bank. If one were to point out a regret, it might be that the aluminum alloy shell is more prone to scratches, which affects its appearance. Its width is the same as that of the regular iPhone 14 models but wider than the iPhone mini. Lastly, it doesn't come with a stand, just like Apple's official MagSafe external battery. 
3. Why should you trust us—how Cool Lab tests
Cool Lab spent 14 days visiting power bank factories and attending related exhibitions. We measured the weight and volume of power banks and tested their magnetic force, charging speed, battery capacity, charging time, etc. If you are interested in the relevant information, please read on.
Test 1. Size & weight
Test Reason
The weight and size of the power bank have something to do with its portability and these factors will impact customers' buying decisions. In some circumstances, they may bring some issues in everyday use. For example, when I want to wander around near my home and don't want to carry a backpack but am afraid of my phone running out of battery, I need a small power bank. At this time, I need to consider the weight and size of the power bank. 

Test Method
Step 1. Weigh a power bank on an electronic scale.
Step 2. Measure the length, width, and height of each power bank with a vernier caliper and then calculate the volume.
3.2 Interface
Test Reason
Type-C and micro USB are two major interfaces. If you have a Type-C cable but buy a power bank with a micro USB port, then you have to buy an extra cable. Therefore, a power bank with fully-equipped interfaces is recommended.
3.3 Magnetic force
Test Reason
The magnetic force has to be taken into consideration in selecting a magnetic power bank. If the magnetic force is not enough, it's very likely that the power bank may drop down in use and be damaged.
Test Method: Static magnetic force
Step 1. Let the power bank attach the iPhone 12 with magnets.
Step 2. Put heavy weights on the power bank and keep adding weights to it until it drops.
Step 3. Weigh the weight.
Test Method: Dynamic magnetic force
Step 1. Let the power bank attach the iPhone 12 with magnets.
Step 2. Wave the phone with different forces and observe what happens.
3.4 Authentic capacity(taking iPhone 12 as an example)
Test Reason
Another important factor in choosing a power bank is its capacity. If it cannot even charge 50%, there is no point in buying it.

Test Method
Step 1. Charge the power bank to full capacity.
Step 2. Make the power bank discharge at 7.5W with the help of a wireless test tool.
3.5 Wireless Charging Speed(taking iPhone 12 as an example)
Test Reason
The charging speed is also a valuable indicator for a power bank. The power needs to go up in use, instead of going down over time. The faster it charges, the shorter the waiting time is. 

Test Method
Step 1. Discharge the iPhone 12 to about 50%.
Step 2. Let the phone cool down to room temperature.
Step 3. Charge the phone wirelessly for 15min with a power bank and record the change in power.
3.6 Charging time & power
Test Reason
If you have used a power bank, you may know that it generally takes a long time to be charged fully. Some of them even need a whole night to get the full charge, which is teased by many people that you charge it for 5h, but you can only use it for 1h. That's the reason why we test the charging time and choose those performing better in this field.

Test Method
Step1. Discharge the power bank fully.
Step2. Charge the power bank and keep a record of the charging process with a USB power meter tester.
4. Summary
In the 10000mAh power bank camp, Belpink is the best performer, and in the 5000mAh power bank camp, Loowoko is the best performer.
The above is all our test process and test data, the test of several rechargeable batteries each has its own characteristics. CG test not only has a lot of real data as a support, but also from all aspects of the user's real use of scenarios and user needs, to achieve only choose the right, not eccentric not fake. I wonder what you have to say after reading the post? If you think we are doing a good job, click on the praise before you go ~ also welcome your comments, we will see you next time, bye!
Collection 2019
Sale 70% Off
Title for image