The Best Portable Hair Drye for Travel of 2023
Posted by COOL GADGET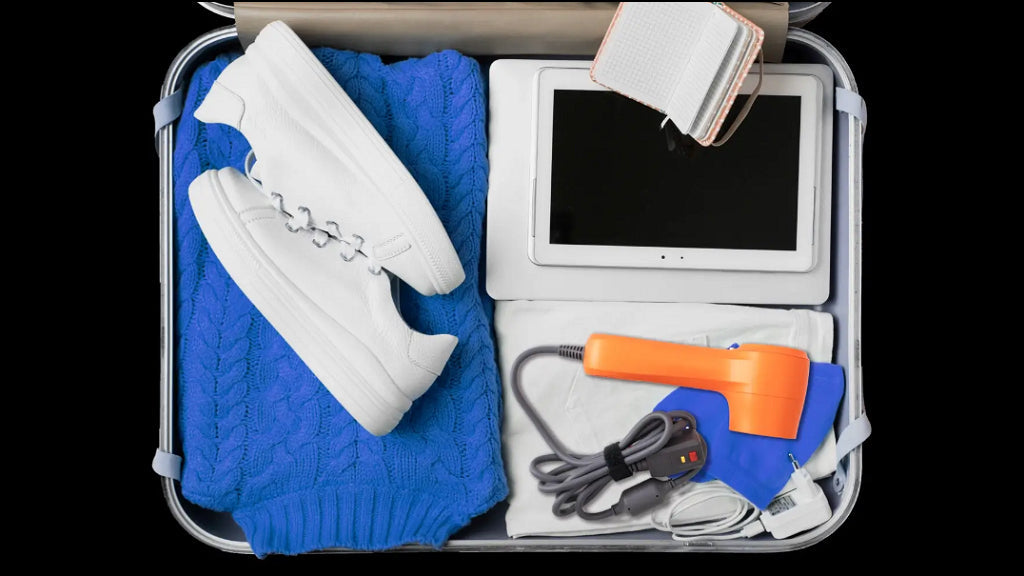 Are you looking for a great portable hair dryer? Maybe the dream portable hair dryer is small enough, low enough noise, yet powerful? If your answer is yes, then I'm glad Cool Lab has helped you find such an excellent portable hair dryer through a lot of searching and testing - OOYEE high-speed portable hair dryer. It is not only small, low noise, but also has incredibly strong performance. 
Why OOYEE is an excellent portable hair dryer
Small and light-weight portable hair dryer
The OOYEE hair dryer is extremely small, measuring only 7.8 inches (20cm) in length, slightly longer than an iPhone 14promax, and 2.9 inches (7.3cm) in width, less than half the size of a standard hair dryer. Here are some pictures of it in a 24-inch suitcase and held normally. As you can see, it's a really small portable hair dryer. It takes up little space in the luggage and appears to be very small in the hand. 
Not only is the OOYEE portable hair dryer small in size, but it is also very light in weight. Unlike standard hair dryers, which can weigh up to 1.7 pounds, OOYEE weighs only 1.0 pounds with cord and 0.69 pounds without cord, making it roughly the same weight as an iPhone 14promax. Here are our precise measurements. 
OOYEE is not the smallest hair dryer we found, but based on the results of all the tests below, we believe it is the best portable hair dryer in our opinion. As a portable hair dryer, it achieves an excellent balance of performance and portability. 
Portable hair dryer with strong wind power
OOYEE has a brushless high-speed motor that can reach 100,000 RPM/s, resulting in a strong wind speed that far exceeds that of a standard hair dryer. 
In our actual wind speed measurement, OOYEE wind can reach 14.23m/s when the hair is 15cms from the outlet (the distance between the hair and the hair dryer mouth during normal use), while the ordinary hair dryer only has 9.10m/s. As a result, the OOYEE portable hair dryer in a smaller size has a stronger wind. This is primarily due to its more advanced brushless high-speed motor and superior air duct design. 
What is a high-speed hair dryer: a high-speed hair dryer as the name implies, has a very high-speed brushless high-speed motor. Ordinary hair dryer brush motor speed is usually difficult to exceed 20,000 rpm, while a high-speed hair dryer brushless high-speed motor can often reach 100,000 rpm or even higher. 
Brush motor: A brush motor is made up of several parts, including a magnet, rotor, brushes, and a commutator. This motor's characteristics are generally low speed (usually only 1-2 million revolutions), low wind speed, and short hair dryer life, but the price is very low.
Brushless high-speed motor: A brushless motor is primarily composed of a motor body and a driver, and its speed can typically reach 100,000 rpm. It has a high wind speed, and a large air volume, and is not easy to wear and tear. The life of the hair dryer is relatively longer, but it is generally more expensive than hair dryers with brush motors.
The graphs below depict the wind speed performance of the ten high-speed hair dryers we tested. As you can see, OOYEE's air speed is one of the fastest among the high-speed portable hair dryers we tested, even faster than some of the regular-size high-speed hair dryers. OOYEE's powerful wind can quickly dry hair. What is the significance of quick hair drying? According to research, prolonged exposure to water can cause hair to become fragile. 
Portable hair dryer for hair care
According to our findings, prolonged use of a standard hair dryer at high temperatures can cause heat damage to the hair. On the other hand, this can be easily avoided by using a high-speed hair dryer like OOYEE. Drying hair relies heavily on ultra-high air speeds because high-speed hair dryers generally have lower air temperatures. 
Using a high-speed hair dryer allows you to dry your hair quickly at a lower air temperature while avoiding the dangers of high-temperature heat damage to the hair scales. If you want more information on heat damage to hair, check out this blog: Worried about heat-damaged hair? Try a high-speed hair dryer!
In our actual tests, the OOYEE air temperature was 123.6°F (50.9°C) when the hair was 15cm from the outlet (the distance between the hair and the hair dryer opening during regular use), while the standard hair dryer air temperature was as high as 174°F (79°C, which is extremely damaging to hair). 
Quiet portable hair dryer
Surprisingly, for such high performance, it has a very low noise level. Here is a video of OOYEE's noise performance. OOYEE has a significant advantage over standard hair dryers. Its noise decibel is only 72.8dB, which is significantly lower than the standard hair dryer's 86.1 dB.
Furthermore, the sound of OOYEE is less sharp and rough. Its sound is noticeably softer and more acceptable.
We believe this is an important consideration in your purchase, and I'm sure you've had enough of the annoying noise of standard hair dryers. 
It produces the least amount of noise when compared to the other high-speed hair dryers we tested. In terms of noise, OOYEE's noise is lower than all of the high-speed hair dryers we tested, making it ideal for users who require a quiet hair dryer. 
Comprehensive functions
OOYEE is also very functional; it has three adjustable wind speeds and three adjustable temperatures, and the regular hair dryer adjustment function is no different. It also has a negative ion function that can neutralize static electricity and reduce frizz on the hair.
To avoid high-temperature damage, it also has an intelligent temperature control function, a temperature control head built into the air outlet, and real-time chip monitoring of wind temperature. 
Portable hair dryer with fashionable shape
OOYEE has an avant-garde orange color that is different from traditional hair dryers, so I think it would be a good choice if you care about the design of your hair dryer and need a stylish hair dryer. Of course, appearance is highly subjective. You can choose based on your preferences. 
Conclusion
Cool Lab has conducted extensive research and testing and believes OOYEE is the best high-speed portable hair dryer in our opinion. It strikes the perfect balance between performance and portability: small size, low noise, strong wind power, and increased hair care. If you want a compact, lightweight, and powerful hair dryer for your high quality of life, OOYEE is the ideal choice. 
Collection 2019
Sale 70% Off
Title for image