12 Cool Office Gadgets to Help You Beat Boredom at Work 2023
Posted by COOL GADGET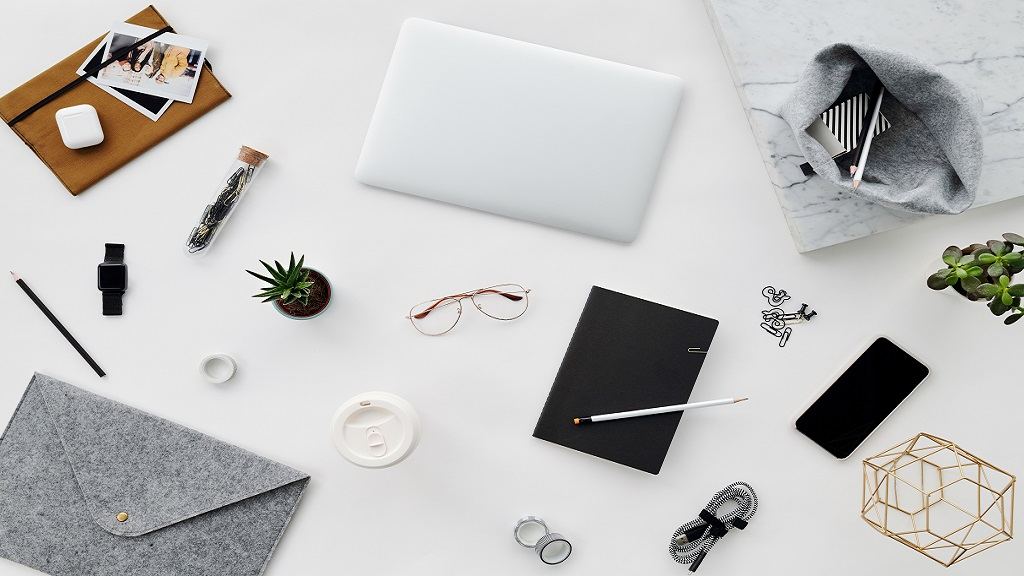 A lot of us spend more than half of our entire day in the office, so it's essential that we pay attention to the gadgets in it. Whether you work in a massive space, a cubicle, or a small desk space, there are so many cool office gadgets that can help you have a productive space.
We have conducted in-depth research and developed a comprehensive list of office gadgets that will elevate your space regardless of your niche. Read on to find out!
Cool Office Gadgets to Make Work More Efficient
Ultra-thin Magnetic Wireless Power Bank
This ultra-thin  MagSafe power bank will always come in handy when you need to be on the move, and your battery is running low. It is the perfect addition to your office table for emergency power-ups.
The power bank's slim nature will add to your table's overall look, so don't worry about finding a spot for it. And this is why it is top on our list of cool office gadgets.
Why we love it
The power bank has a 5000mAh capacity and a fast, automatic recognition of your phone, so all you have to do is snap and charge!
✔️The smallest and thinnest 5000mAh Magsafe power bank, lightweight and portable;
✔️Real-tested large capacity, 2x larger than the Apple Magsafe Battery Pack;
✔️Auto-recognition of your cellphone, snap-n-charge, ultra-strong magnetic connection;
✔️Graphene heat dissipation keeps your device working at a healthy status.
✔️Support all Qi-enabled phones, Airpods, and other devices;
✔️High-quality and smooth metallic design.
Ultra-thin Magnetic Wireless Power Bank -Cool Gadget​​
Modular USB-C Docking Station
This 7-in-one USB-C docking station is all you need to get rid of endless wires in your working space. The portable docking station has different interfaces that enable combined or split use. Who needs different extensions and wires when you can have this one?
Why we love it
It is very portable, and the interior aluminum alloy lets it quickly dissipate heat without affecting your devices. 
✔️Connect 7 devices at once;
✔️Buy 1, get "1" free;
✔️Seamlessly fit your devices;
✔️Fast TF/SD card reading/writing;
✔️The most portable dock ever;
✔️Quality aluminum alloy helps dissipate heat easily.
Modular USB-C Docking Station - Cool Gadget​​
4-in-1 Nylon Braided Fast Charging USB-C Cable
Everyone needs a reliable USB-C cable in their corner, and this one cable we can vouch for. The 4-in-1 cable has everything you need in a charging cable, and it works for any phone port, whether you use an Android or an iPhone.
Why we love it
The 4-in-1 feature will come in handy on days when you don't want to carry a lot of cords around as you work or travel.
✔️4-in-1 design for your iPhone, iPad, MacBook, Android, or headset;
✔️60W fast charging;
✔️Safety-guaranteed with a smart chip;
✔️Enhanced durability with a tangle-free design;
✔️480Mbps high-speed data transfer;
✔️Suitable for travelers, business people, and gadget lovers.
4-in-1 Nylon Braided Fast Charging USB-C Cable -Cool Gadget​​
3-in-1 Foldable Stand Wireless Magnetic Apple Charger
This is a portable charger you can throw in your bag when you need to travel or make a long trip somewhere. With this mag-safe charger, you never have to worry about having a low battery! This foldable charger can charge all your Apple devices without stress as it is dual 15Watts powered.
Why we love it
It is as sleek as an iPhone, and no matter how long you carry it around, you won't feel its weight at all. There's a hidden holder that makes it easy to hold and carry around while you use it.
✔️For phones, Bluetooth earphones, and Apple watches(widely compatible);
✔️Efficient charging with strong magnets, automatic and sturdy suction;
✔️Dual 15W fast charging for phones(15W for Androids, 7.5W for iPhones) ;
✔️Foldable design, lightweight(only 181g) and portable for travel;
✔️Hidden holder(handy for use as a phone holder)
3-in-1 Foldable Wireless Magnetic Apple Charger - Cool Gadget​​
Eco-friendly Reusable Notebook
Technological advancements have brought a lot of ease to our daily lives, and even our traditional notebooks are not left out. This new and improved notebook is reusable, thanks to its special pen and eraser technique.
The notebook has water-resistant sheets that can be cleaned with wet wipes, and its content can be stored on the cloud. As a result, it will make a great addition to your desk collection.
Why we love it
It's a notebook that you can use endlessly, carry out a word search, link to your cloud accounts, and cut out the page if necessary. In essence, it gives you the classic pen-and-paper experience in this digital age.
✔️Reusable and environment-friendly;
✔️Wet wipes are erasable;
✔️Waterproof and wear-resisting paper;
✔️OCR and cloud storage supported;
✔️Searchable content.
Cool Office Gadgets to Overcome Boredom
Fully Customizable RGB Aesthetic Mechanical Keyboard
This keyboard is perfect for adding touch and sparks to your workspace. The translucent black crystal design adds its aesthetic and elevates your entire space, and the keyboard is fully customizable. It will take your work sessions from boring to fascinating.
Why we love it
The keyboard is super comfortable to use, every stroke comes easily, and the beautiful design is a plus to its functionality. If you're a keyboard lover, this is a must-have.
✔️Translucent Black Crystal Design
✔️Master Any Keys or Macros with QMK/VIA
✔️Comfort with Every Keystroke
✔️ Full-Color Dynamic RGB Backlighting
✔️Unparalleled Wireless Freedom
✔️Fully Transparent Ultra-quiet MX ✔️Jellyfish Switch
Nixie Tube Vintage Small Digital Clock
Your desk clock does not have to be a boring old design; it can be beautiful and aesthetic too. The Nixie Tube digital clock is a staple and a functional piece, so it beautifies your space and keeps you updated on time as you work.
Why we love it
It has a retro vintage design and a futuristic style that sets it apart from other digital clocks.
MIX Acid RGB Décor LED Room Light
Beautify your workspace with this portable table light. The light will give your space its own vibe and add some spark to an otherwise bland desk. It has gesture control and app control plus a magnetic holder that allows you to place it anywhere you like.
Why we love it 
The light is small but very functional, with a dynamic range of colors for you to choose from.
✔️Put it wherever you want with a magnetic design
✔️2 Ways of gesture control
✔️Transform music into dynamic symphonies of color and light
✔️With 16million RGB colors, flawless light effects
MIX Acid RGB Décor LED Room Light - Cool Gadget​​
PETAL fashion Wireless Laptop Mouse
Everything about this mouse screams sophistication and luxury. It is one cool office gadget everyone who regularly works with a mouse needs. The keys are amazingly sleek, and the entire mouse easily fits into your hands. Working will become soothing as the mouse fills your ears with silent clicks.
Why we love It
The mouse is wireless and compatible with all PCs, Macs, and Android OS. Using the mouse is a breeze thanks to its sleek design. All buttons are shaped like nails, and there's a fluffy ball receiver you can play with when you're under pressure.
✔️Magnetic buttons for convenient change and personalized style
✔️Optimal fit for your hands and non-slip press key
✔️Five levels of DPI for switching
✔️Anti-loss receiver with a cute fluffy ball
✔️Silent Clicks and ultra-quiet scrolling
Compatible with PC/macOS/iOS/Android
PETAL Fashion Wireless L​​aptop Mouse - Cool Gadget
Reusable Pencil Drawing
This reusable pencil is all you need for quick notes, daily scribbles, and everything a pencil is good for. What are the perks? You don't have to worry about sharpening, broken ribs, or getting your hands dirty.
Why we love it 
The pencil is highly functional and eco-friendly, helping to save more trees, so it's a win-win situation.
Reusable Pencil Drawing - Cool Gadget​​
Cool Office Gadgets for Work-life Balance
Portable Sport Bottle Blender
Staying hydrated and healthy while we work is an absolute necessity, but sometimes, we get carried away by activities and forget. This portable sport bottle blender is a must-have if you're trying to stay healthy and hydrated daily. You can fill it with ice and your favorite fruits and make a healthy smoothie on the go.
Why we love it
The bottle is made of odor-free Tritan material and powers up to 70W. It is strong enough to crush ice and all your favorite fruits in seconds. The cordless design and functional strap make it easy to carry around anywhere.
✔️2-in-1: a blender cup and a water bottle cup.
✔️35oz large capacity.
✔️70W high-powered blender that crushes ice cubes in no time.
✔️BPA-free safe, drop-resistant, odor-free Tritan material.
✔️Cordless portable design with a handle and a strap.
Portable Sport Bottle Blender - Cool Gadget​​
Custom Smart Reusable Insulated Iced Coffee Cup
A coffee cup in your corner is your daily reminder to stay alert and hydrated as you go through the motions of work. This custom-insulated coffee cup is not your regular coffee cup; it has a pixel screen that shows you funny emojis or temperature readings and can keep your liquid warm or cold for up to 6 hours. The cup also has a water reminder, so you can trust it to help you stay hydrated.
Why we love it
This coffee cup has everything you need to stay hydrated, and it can preserve the warmth or coldness of your liquid as you go about your day. The pixelated body adds a beautiful touch, elevating it beyond other coffee cups.
✔️Two ways of drinking
✔️Intelligent displays with temperature, emoji, and text
✔️Drink water reminder
✔️6 hours of heat/cold preservation
✔️Sealed and leak-proof lid for sports and outdoors
✔️Reusable and environmentally friendly
These cool office gadgets can help transform your workspace and improve productivity, so do not hesitate to add them to your cart. Shop for all these cool gadgets and more from our wide range of products and get unbelievable discounts!
Collection 2019
Sale 70% Off
Title for image